My father was saying how he felt tired most of the time and went to the doctor who diagnosed him with Lyme disease. We are flummoxed as to how he got it since he does not get bites. He has also been having trouble breathing. His heart was checked and his heart is in good condition. Next test is checking his lungs.
Some of you may recall that my mom died almost 15 years ago of lung cancer. Before she had lung cancer she had Lyme disease. She said she had back pain and some other aches and pains that were all attributed to Lyme disease. Six weeks before she went to the hospital for cancer because she was in so much pain she could not move she had a CT scan or x ray or some such that showed no tumors. But when she went in to the hospital they were in her lungs, so badly in her back that they could not all be removed, and she had one in her head. And nothing showed up in that six week check up, or so we were told.
I don't want them to ignore my Dad's complaints the way they did with my Mom and thus I have some wariness about his care. I need to talk with my step mom and remind her to please not let them ignore him.
My flower this week is a gardenia:
Linking up with:
http://littlebylittleblog.com/little-things-thursday-107/
http://floralfridayfoto.blogspot.com
http://www.shinethedivinecreativityisaspiritualpractice.com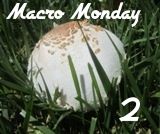 http://macromonday2.blogspot.com