I decided this week to try Scavenger Hunt Sunday (SHS for short) besides my Sunday Snapshot. SHS picks a theme for the week and you snap photos during that week that illustrates the themes. They give you five themes each week that do not have to be thought of in the traditional or literal way.
Sweet Dreams - I chose this because she is obviously having sweet dreams of this rabbit!
The next one was time to eat so here is a picture of my table dressed:
The next one was playtime. This is not the best shot technically, but I liked the fact that I captured her mid bounce. It took me many, many tries to get a shot I could consider using...but there is a reason this is not for my Sunday Snapshot!
Our next theme was getting ready so this is a shot of my planning next week's schoolwork. We have many more books than this but I could not fit all of them in this shot :)
Lastly we had scrub a dub. We have had cloudy skies and some rain this week and this was one of the clouds after the sky had its scrub a dub.
Linking up with Sunday Snapshot
Simple Things Sunday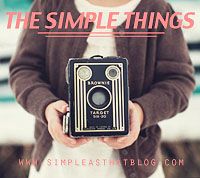 Scavenger Hunt Sunday
">